Our Work
Create your own haven, a space apart, bridging the outdoors with a structure of infinite beauty and functionality. Allow us to custom design, build, and install an elegant glass enclosure to reflect your individual sense of style and enhance the beauty of your environment.
Articles
Deal direct with the manufacturer of affordable high quality glass structures, custom designed for your needs and crafted here in the USA.
Have questions? Browse our articles for answers to commonly ask questions, or call today for a phone consultation: 206.284.6947.
Have you wondered how to care for and maintain the beauty of your AGI custom-designed architectural glass greenhouse, skylight, awning or conservatory? Here are some tips to avoid damaging this specialized architectural glass, and to maintain its luster and beauty long after house window installation. Avoid cleaning tinted and coated glass surfaces in direct sunlight as excessive […]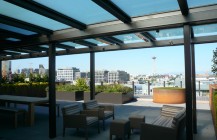 A glass awning or glass canopy is simply a cover over an entry way or walkway that provides the benefit of natural light. The cost of a glass awning can vary widely depending upon design, materials used, and complexity of installation — but a good rule of thumb for AGI custom awnings is about $100 per square foot. […]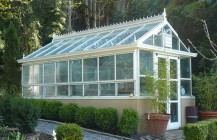 The costs associated with the construction of a custom greenhouse can vary widely depending on method of building, materials used, and whether the structure will have a heating and/or cooling system. You'll need to consider what purpose your custom greenhouse will serve in order to determine an approximate cost for materials and labor. DIY ("do-it-yourself") greenhouses […]